Penne with Vodka Sauce
---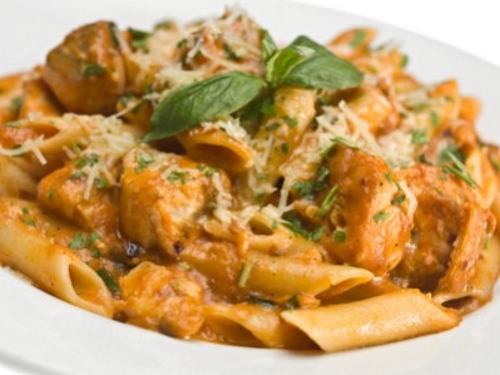 ---
A CHICAGO FAVORITE
Penne with Vodka Sauce has been a favorite among Chicagoans for quite some time now. I know a lot of people who live here and people who fly into town simply love the vodka sauce from Rosebud Restaurants.
Many, many years ago I remember Rosebud's on Taylor St. was one of the only places you could find this sauce on the menu. Now, it seems like almost every Italian restaurant in the city has their own variation of this wonderful dish.
I'm not sure if Rosebud started this recipe or not, if anybody knows let me know, but I have worked with many chefs and cooks at different restaurants who started out working for Rosebud and they all include it in their menu's.
If you look online for a vodka sauce you'll find that all are made with a heavy whipping cream. My variation is using a little cream with mascarpone cheese which I'm sure is used in Rosebud's recipe according to the chefs I've worked with.
Try it and let me know if you like it.
This recipe is for our friend Donna S. who said the other day that she needed a good vodka sauce recipe. I'm sure she won't mind if everybody tries it.
INGREDIENTS
1 box penne pasta
3 15oz. cans of tomato sauce
3 shallots diced
1 green bell pepper diced
3 cloves of garlic crushed
3 Tbls olive oil
1 Tbls butter
1/2 cup of chopped fresh parsley
8 oz of mascarpone cheese (or cream cheese, but in this case let's stick with the Italian stuff it's much better.)
1/2 cup of heavy whipping cream
2 or 3 oz of vodka
1 tsp fresh ground black pepper
salt to taste
freshly grated Parmesan cheese

PREPARATION
Melt butter in oil and saute shallots and peppers for about 2 minutes.
Add garlic and vodka and saute another 2 to 3 minutes until vodka reduces slightly.
Add tomato sauce and cook for about 10 minutes longer.
Add pepper and salt.
Add cream and mascarpone cheese and stir until cheese in melted.
Simmer for around 15 minute more but do not bring to a boil.
Add 6 quarts of water to a large pot and cook the pasta until "al dente". Around 10 minutes.

Pour the sauce over the pasta and sprinkle with parsley and Parmesan.

Let me know how this one turns out. I haven't had a chance to make it in a while.



---
Don't forget to click on the logo below and subscribe to my
NEW NEWSLETTER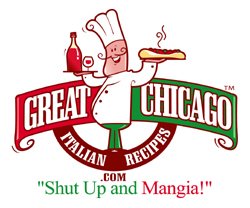 That's a discovery! That's Italian! That's
Great Chicago Italian Recipes.com
Leave Penne with Vodka Sauce and Return to Italian Recipes

Leave Penne with Vodka Sauce and Return to Italian Pasta Recipes
---
---
Home | The Italian Grocer | Italian Heritage | Italian Chefs | New Contest | What's New | Restaurant Reviews | Your Reviews | Appetizer Recipes | Soup Recipes | Salad Recipes | Bread Recipes | Vegetable Recipes | Pasta Recipes | Poultry Recipes | Beef Recipes | Pork Recipes | Veal Recipes | Lamb Recipes | Seafood Recipes | Pizza Recipes | Cooking for Kids | Italian Cheese | Italian Wine | Dessert Recipes | Coffee and Espresso| Italian Dinner Music | Food Glossary | About the Cook | Sitemap | Share This Site | Contact | Privacy Policy | Disclaimer | Submit Your Recipes | Your Italian Recipes | Archived Menus