What's So Special About Prosciutto?
---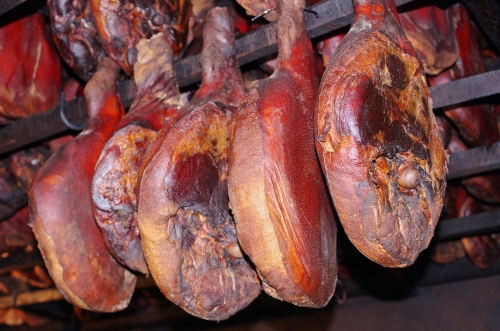 ---
Sweet and Savory

Prosciutto is one of the favorite and most famous Italian foods worldwide. Prosciutto di Parma and Prosciutto di San Daniele are the two most popular prosciutto in Italy and abroad. Among these two there are actually a total of seven major types of prosciutto that carry the D.O.P. Label (Denomination of Protective Origin) which ensures its origin and strict production standards. The other five include Prosciutto di Modena from the Emilia-Romagna region, Prosciutto Toscana from the Tuscan region, Prosciutto Veneto Berico-Euganeo from the Veneto region, Prosciutto di Carpegna from Marche and Jambon de Bosses from the Val d'Aosta region.
Prosciutto di Parma has been the premier ham for centuries. Dating back to the Roman times, Parma ham has been crafted with the same painstaking care for generations. It is produced in the province of Parma, Italy. This Emilia-Romagna region makes it possible to create the highest quality ham using just four ingredients. Specially bred and fed pigs, sea salt, air and time produces a ham that is 100% natural. Additives and preservatives are never used. One of the stringent regulations is the pigs must be fed cereal grains and whey from the production of Parmagiano-Reggiano cheese. This adds to the creation of its sweet, salty favor that is so revered.
The unique dry climate and the high altitude of the Fruili region of Italy gives Prosciutto di San Daniele its sweet flavor and creamy texture. San Daniele ham is usually sweeter and less salty due to the shorter time they remain salted as opposed to the hams from Parma. They are also cured a bit longer. To truly enjoy this ham it should be eaten all by itself or at the very least with fruit, white bread or a grissini (bread stick). Unlike Prosciutto di Parma, whose flavor holds up better during the cooking process and can be used to give a rich flavor to other Italian dishes.
Dishes such as Veal or Chicken Saltimbocca are delicious using Prosciutto di Parma. Other dishes such as Fettuccine Alfredo or just about any pasta dish can be enhanced using this cured ham. Both hams are delicious wrapped around light fruits like melons or figs and are always a favorite wrapped around steamed asparagus. And, lets not to forget it in your Antipasti platter.
Prosciutto pairs well with sparkling wines such as a Prosecco or a Lambrusco. Also, zestier wines such as a Pinot Grigio or Sauvignon Blanc along with young fruity reds such as a light Pinot Noir or a Dolcetto. One of my favorite is Lambrusco which is produced in the same Emilia-Romania region as Prosciutto di Parma. It is light in tannins, crisp, light bodied and has a fruity floral flavor that matches perfectly.
So which ever prosciutto you prefer, know that the final product is made through generations of tradition and craftsmanship. It truly helps you appreciate the ham more and understand why it is so special.
---
---
Don't forget to click on the logo below and subscribe to my
NEW NEWSLETTER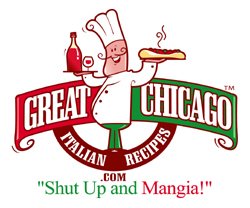 That's a discovery! That's Italian! Thats
Great-Chicago-Italian-Recipe.com
---
Leave What's So Special About Prosciutto and
Leave What's So Special About Prosciutto and
Return to Italian Food Tips and Info

---
---
Home | The Italian Grocer | Italian Heritage | Italian Chefs | New Contest | What's New | Restaurant Reviews | Your Reviews | Appetizer Recipes | Soup Recipes | Salad Recipes | Bread Recipes | Vegetable Recipes | Pasta Recipes | Poultry Recipes | Beef Recipes | Pork Recipes | Veal Recipes | Lamb Recipes | Seafood Recipes | Pizza Recipes | Cooking for Kids | Italian Cheese | Italian Wine | Dessert Recipes | Coffee and Espresso| Italian Dinner Music | Food Glossary | About the Cook | Sitemap | Share This Site | Contact | Privacy Policy | Disclaimer | Submit Your Recipes | Your Italian Recipes | Archived Menus
---
Copyright 2014 by Great Chicago Italian Recipes.com, All Rights Reserved