CHRISTMAS COOKIES AND PASTRIES
---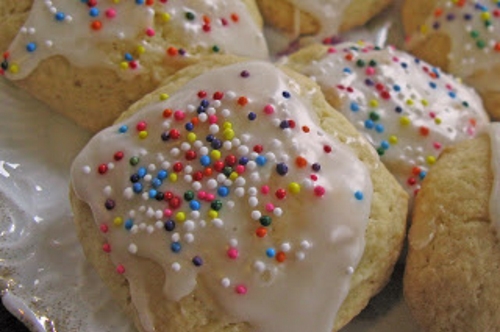 ---
AN ITALIAN CHRISTMAS
What would Christmas be without Italian Christmas Cookies and pastries? Before the pastas, before the meats, poultry and seafood, the cookies and pastries must be made. At the very least the cookies and pastries must be made a week ahead of time. Half go to neighbors and the other half stays at home.
Since I don't bake, my wife does all the baking in my house, I stole some of her recipes. Besides her own recipes she makes all my Mother's favorites which brings back a lot of wonderful memories.
Before we begin I should direct you to the four most important cookies and pastries on my site for Christmas. These treats are a must before anything else is made. First the Cannoli must be made. These delicious pastries are made with sweetened ricotta cheese must be a part of your dessert tray at Christmastime. Along with the cannoli, Cream Puffs are the next to be made along with the Walnut Butter Cookies and the Pizzelles. These four desserts are at the top of my list every year. The rest is just gravy.


---
Struffoli (Italian Honey Cookies)
INGREDIENTS
3 large eggs
4 sticks of butter
1/2 cup of sugar
2 cups of all purpose flour, sifted
1/2 tsp of baking soda
1 cup of honey
Vegetable oil for frying
Colored candy sprinkles



PREPARATION
In a medium size bowl, whisk together the eggs, butter.
Sift the flour and baking powder together and mix into the egg mixture.
Mix the dough by hand until soft and divide into four pieces.
On a floured surface, roll the dough into a 1 foot ropes around 1/2 inch thick.
Cut the ropes into 1 inch pieces.
Lightly dust the pieces with flour, dust off excess.
In a deep fryer, heat the oil to 375 degrees.
Fry the dough a few handfuls at a time until they are puffed up and golden brown.
Remove the struffoli with a slotted spoon and drain on a paper towel.
In a large saucepan combine the honey and sugar and heat until sugar is melted.
Add the fried dough a little at a time, turning to coat with the honey.
Place them on a large plate and shape them into a pyramid.
Sprinkle with sprinkles and let cool for 1 to 2 hours.


---
Ricciarelli
INGREDIENTS
2 cups of almonds, blanched
1 cup of sugar
1 and 1/2 cups of powdered sugar
1 tsp of almond extract
2 egg whites
Parchment paper



PREPARATION
In a 325 degree oven, toast the almonds until lightly colored.
Remove from oven and let cool.
In a food processor, blend together the almonds and sugar until the almonds a finely ground.
Add the powdered sugar, almond extract and the egg whites.
Remove the dough and shape into a rectangle.
Cut into diamond shapes about 2 inches long.
Place on a parchment paper lined cookie sheet and bake for about 15 minutes.
Cool the cookies on a wire rack.
Dust with the remaining powdered sugar.


---
Italian Chocolate Cookies
INGREDIENTS
3/4 cup of shortening
1 and 1/2 cups of brown sugar
3/4 cup of cocoa
1 tsp. of allspice
1 tsp. of cinnamon
1 tsp. of cloves
4 and 1/2 cups of flour
4 tsp of baking powder
1 and 1/4 cup of milk
1 tsp of vanilla
1 tsp of salt



PREPARATION
Mix everything together until a rough dough is formed.
Drop a teaspoon at a time on a greased cookie sheet.
Bake at 375 degrees for 15 minutes.
dust with powdered sugar.


---
Almond Biscotti
INGREDIENTS
4 medium eggs, beaten
1 cup sugar
2 sticks of margarine
1/4 cup milk
1 bottle anise
1 tsp. vanilla
4 cups sifted flour
4 tsp. baking powder
1/2 tsp. salt
1 cup toasted almonds.



PREPARATION
Mix together margarine and sugar.
Add eggs, milk, anise and vanilla.
Add the flour, baking powder and salt.
Add the nuts
Roll into 2 by 4 inch strips.
Bake at 350 degrees for 15 minutes
Cool and cut

Makes 3 dozen cookies.


---
Spumetti
INGREDIENTS
1 pound of hazelnuts, coarsely chopped
1 pound of powdered sugar
2 Tbls of cocoa
2 tsp. of cinnamon
6 egg whites
Parchment paper

PREPARATION
Pre-heat oven to 325 degrees.
In a large bowl mix together the hazelnuts, powdered sugar, cocoa and cinnamon.
Add the egg whites and mix until blended.
Shape the dough into round balls one tablespoon at a time.
Place on a parchment lined baking sheet one inch apart and bake for 30 minutes.
---
Don't forget to click on the logo below and subscribe to my
NEW NEWSLETTER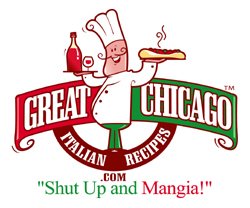 That's a discovery! That' Italian! That's
Great-Chicago-Italian-Recipes.com
Leave Italian Christmas Cookies and Return to Italian Recipes
---
---
Home | The Italian Grocer | Italian Heritage | Italian Chefs | New Contest | What's New | Restaurant Reviews | Your Reviews | Appetizer Recipes | Soup Recipes | Salad Recipes | Bread Recipes | Vegetable Recipes | Pasta Recipes | Poultry Recipes | Beef Recipes | Pork Recipes | Veal Recipes | Lamb Recipes | Seafood Recipes | Pizza Recipes | Cooking for Kids | Italian Cheese | Italian Wine | Dessert Recipes | Coffee and Espresso| Italian Dinner Music | Food Glossary | About the Cook | Sitemap | Share This Site | Contact | Privacy Policy | Disclaimer | Submit Your Recipes | Your Italian Recipes | Archived Menus