Ending a Great Meal With Great Italian Desserts
---
---
Excellent Italian Deserts
An Italian meal isn't over until something sweet is eaten. Anything from pasta to meats can make an unbelievable Italian dinner. However, it is the abundance of desserts after the meal that makes everything worth finishing. Who can pass up delectable cookies, cakes and pastries spread out over a large table? I know I can't. Even for the most disciplined person, it is hard to resist all the sweet temptations.
In Italy you will discover that every restaurant or cafe will always have a tempting abundance of cakes, cookies and pastries. These desserts range in flavor from sweet to bitter. Most are not overly sweet, which increases your craving to indulge in more dessert debauchery.
Italian cookies are always a treat that you can hardly pass up. Most cookies have a somewhat crumbly texture but they are not as hard as biscotti. Biscotti, also known as cantuccini, are twice baked cookies which originated in the city of Prato. They are just delicious dipped in a sweet wine, coffee or espresso. Traditional cookies are often glazed with a thin frosting which is usually made with powdered sugar. Sometimes they are even flavored with lemon or anise, filled with walnuts or hazelnuts and covered in sprinkles.
One of my favorite traditional Christmas holiday dessert that originated in Milan, is a sweet bread called Panettone. During the holiday season boxes of this famous cake can be found in bakeries all over the world. The cake is filled with candied fruits and nuts and most delicious served with Mascarpone cheese or a light fluffy custard know as Zabaglione. Other sweet breads such as Panforte from Sienna or Pandoro from Verona are also enriching holiday desserts.
Many custard treats are also popular among Italians. Besides the Zabaglione, desserts such as Zuppa Inglese and the ever popular Tiramisu, which along with Gelato, is probably one of Italy's most famous desserts. These light flavorful desserts are always welcome after a feast. Tiramisu, which originated in Treviso, is a layered dessert made with Savoiardi ladyfinger cookies lightly dipped in a strong espresso, rum, a little Marsala, eggs, cocoa powder and Mascarpone cheese. It is a delicate refreshing dessert best described as heavenly.
This article would not be complete if I didn't include my three favorite Sicilian desserts, Cannoli, Cassata and Cream Puffs (Zeppoli). Cannoli are an essential part of the cuisine of Sicily. They are fried, tube shaped pastry shells filled with a creamy sweet filling. Traditionally it is made with ricotta cheese or a sweetened mascarpone cheese. The cheese is then blended with a variety of choice flavors such as Marsala wine, vanilla or chocolate along with many other varieties of flavors. The shells are shaped around a dough ring and deep fried until they are crisp and browned. The shells are then filled using a pastry bag and the ends dipped in pistachios. They are to be eaten when they are fresh and crisp. If they sit too long they become soggy and the worst thing to have is a soggy Cannoli. No matter what other desserts are served after dinner, I recommend that Cannoli should always be part of the menu.
Cassatta alla Siciliana, which originated in Palermo is considered the official cake of Sicily. It is a rich dessert made with a creamy flavored filling which is then layered between sponge cake. It is traditionally filled and topped with a wide variation of ingredients such as candied fruits, chocolate bits and nuts. Cassatta was originally created for the Easter holiday but now is enjoyed any time of the year.
One of the simplest desserts you can make are Zeppoli or better know in the States as St. Joseph's day cream puffs. They are made with a fluffy pastry dough, filled with custard, chocolate or vanilla pudding and lightly dusted with powdered sugar or dipped in chocolate. Best served warm, this delicious pastry will melt in your mouth.
Let us not forget, among the desserts above, there are cheesecakes, ice cream treats such as Tartufo, Zuccotto, Sfogliatella Riccia and many other Italian desserts that will satisfy your desires. Also a variety of fruits and cheese are always a favorite and a great way to finish a meal.
So after a great Italian meal indulge yourself with some sinfully delicious Italian desserts. Remember to bathe in the chocolate and bask in the custard.
For some of these dessert recipes and others visit Great Chicago Dessert Recipes. Enjoy!

---
---
Don't forget to click on the logo below and subscribe to my
NEW NEWSLETTER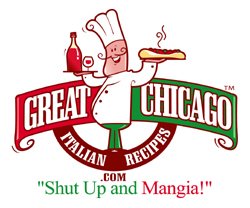 That's a discovery! That's Italian! Thats
Great-Chicago-Italian-Recipe.com
---
Leave Ending a Great Meal with Great Italian Desserts
Leave Ending a Great Meal with Italian Desserts
and Return to Italian Food Tips and Info

---
---
Home | The Italian Grocer | Italian Heritage | Italian Chefs | New Contest | What's New | Restaurant Reviews | Your Reviews | Appetizer Recipes | Soup Recipes | Salad Recipes | Bread Recipes | Vegetable Recipes | Pasta Recipes | Poultry Recipes | Beef Recipes | Pork Recipes | Veal Recipes | Lamb Recipes | Seafood Recipes | Pizza Recipes | Cooking for Kids | Italian Cheese | Italian Wine | Dessert Recipes | Coffee and Espresso| Italian Dinner Music | Food Glossary | About the Cook | Sitemap | Share This Site | Contact | Privacy Policy | Disclaimer | Submit Your Recipes | Your Italian Recipes | Archived Menus
Copyright 2014 by Great Chicago Italian Recipes.com, All Rights Reserved