Great Italian Chefs
featuring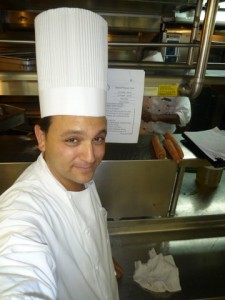 Executive Chef Franco Lania
---
World Traveler
Behind ever Chef is a great story. Step by step, Chef Franco Lania has learned to develop his craft and techniques by experiencing other countries and cultures.
Chef Lania's travels has helped qualify him to work in some of the finest restaurants in the world. He has honed his skill at such places as the Soho-Soho French Bistro in London, Paparazzi Ristorante in Miami, the China Grill in Miami, the Blue Door Restaurant at the Delano Hotel, Royal Cruise Lines, Pinot Bistro in Los Angeles, Sadler Ristorante in Milan, Blue Water Grill in New York and Oceana Cruise Line's flagship restaurant, Toscana,.
He is currently writing a cookbook and continues to travel and cook. His dedication to food and the industry has earned him a place as a great Italian chef. I would like to thank Chef Lania for sharing his delicious recipe for "Arancini di Riso". One of my favorite Sicilian dishes.
Phillip J. Speciale
---
Chefs Bio
Chef Franco Lania is an Italian-American, born of 100% Italian lineage. His father's family came to the United States in the early part of the 1920s after departing from Reggio, Calabria. They settled and lived in New York's Little Italy before moving to another predominately Italian neighborhood in the "Iron Bound" section of Newark, NJ.
Franco's mother was a second generation Italian-American, who grew up in Vailsburg, an Irish-Italian section of the city of Newark. Both of her parents were of Italian lineage from the Campania region of Italy, near such cities as Sorrento, Avellino, and Napoli.
Franco's journey began at Kings— a local gourmet food store in Short Hills, New Jersey. Starting out as a junior butcher, he moved to the fresh sea food department, and ultimately landed a position in the catering and deli department. That's where Franco met many culinary school graduates, fell in love with cooking, and found the desire to go to culinary school.
When Chef Franco chose to become a chef, he never imagined how very special his life journey would become. Cooking and traveling for nearly twenty years now, Chef Franco's career choice has blossomed into an extraordinary lifelong dedication to the culinary art profession.
These very personal life experiences are what make Franco so unique. He is a chef with an uncanny passion for creativity, flavor and travel! During his travels, Franco has collected and personalized hundreds of recipes, secrets, techniques, and specialized flavors from the masters he's met all over the world.
From Michelin starred Europe to great unknown chefs and cooks, Franco has assimilated the flavors and secrets from all of them, while honing and perfecting his very distinct philosophy and cooking style along the way. Franco has developed this unique signature cooking style—something that is all his own, while being empowered by his work, travel, and life experiences.
Highly flavorful, bold, and with undertones of spices and citrus, best describe this personalized style. In the near future, Franco intends to finally share his story, philosophy, secret recipes, and worldwide travel adventures in his long-awaited and much anticipated first cookbook!
Among having an Associates Degree in Liberal Arts, Chef Lania also has an Associates Degree in Culinary Arts, a Grand Diploma from Le Cordon Bleu, London, Master Chef Certification from the Castiglole d' Asti in Italy.
Franco enrolled at the Hudson County Culinary Institute in Jersey City, where he learned the basics of culinary arts. After graduating, the aspiring chef embarked on a trip to England and enrolled at Le Cordon Bleu, where he completed the program and received his diploma.
While studying at Le Cordon Bleu, Franco took a part time job as a pastry assistant at the world-renowned Dorchester Hotel, on Park Lane. The Dorchester remains one of the world's best hotels. The job required the use of many different pastry skills, mainly derived from French pastry techniques and all types of chocolate truffle production.
While based in England, Franco took several unforgettable excursions to France, where he absorbed the tastes and flavors of one of Europe's top cuisine cities. While visiting Paris, he recalls observing the impact food had on people as a cultural event.
He states, "I remember being a young American kid, who was aspiring to be a chef, and I was just amazed at how intense and food-driven the people of Paris were. I realized that being a great chef wasn't only about cooking great food, but about loving and appreciating the ingredients in the dishes you are creating, and being connected to the history behind the ingredients." These experiences ignited Franco's interest and had a profound effect on the development of his unique cooking style.
Chef Franco lives in NYC, and travels often to Europe, and Scandinavia. He is actively writing his first book. Franco hopes to write, travel, and do TV programming on his off time from the cruise line. He is an advocate for the Dorothy Rose Cancer Research Fund, a cause to help find a cure for all cancers.
View Chef Franco Lania's recipe for "Arancini di Riso"
Don't forget to click on the logo below and subscribe to my
NEW NEWSLETTER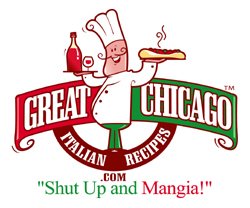 That's a discovery! That' Italian! That's
Great-Chicago-Italian-Recipes.com
Leave Franco Lania and Return to Italian Recipes
Leave Franco Lania and Return to Great Chicago Chefs
---
---
Home | The Italian Grocer | Italian Heritage | Italian Chefs | New Contest | What's New | Restaurant Reviews | Your Reviews | Appetizer Recipes | Soup Recipes | Salad Recipes | Bread Recipes | Vegetable Recipes | Pasta Recipes | Poultry Recipes | Beef Recipes | Pork Recipes | Veal Recipes | Lamb Recipes | Seafood Recipes | Pizza Recipes | Cooking for Kids | Italian Cheese | Italian Wine | Dessert Recipes | Coffee and Espresso| Italian Dinner Music | Food Glossary | About the Cook | Sitemap | Share This Site | Contact | Privacy Policy | Disclaimer | Submit Your Recipes | Your Italian Recipes | Archived Menus