Ricotta Seafood Pizza
---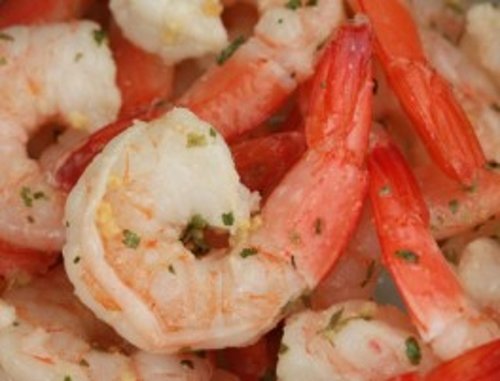 ---
PIZZA OF THE SEA
This Ricotta Seafood Pizza provides me with my two favorite food groups, cheese and seafood. Pizza with ricotta cheese is the best. I rarely love an ingredient as much as do ricotta cheese. OK maybe garlic or basil or parmesan or tomatoes or prosciutto but that's it I swear.
The variety of seafood you can use for this pizza is up to you. Personally I use shrimp (of course), crabmeat, and bay scallops with a tomato sauce. Some people do prefer a white sauce for this dish but I personally like the taste of the tomatoes with the seafood. You can top it with lobster, clams or anchovies if you wish just don't use clown fish or guppies or angel fish because you'll really upset the kids and they don't taste that good anyway.
What else can I say about this Ricotta Seafood Pizza? The ricotta cheese just adds such a great flavor to the pizza and compliments the seafood very well. I also like to sprinkle dried basil all over the top with a little parmesan cheese.


INGREDIENTS
8 jumbo shrimps, peeled and deveined
15 bay scallops
1 small can of cooked lump crabmeat
1 bunch of long green onions
2 cloves of garlic, finely chopped
2 Tbls of olive oil
1/2 pound of ricotta cheese
1 cup of shredded mozzarella cheese
1/2 tsp of salt
1/2 tsp of fresh ground black pepper
1/4 cup of parmesan cheese



PREPARATION
Sauté the shrimp and scallops in the oil until shrimps are pink and scallops a lightly browned, around 3 minutes.
Add the garlic and onions and cook until tender, around 2 minutes longer.
Cool the mixture to room temperature.
Roll out dough in a rectangle of circle.
Top the pizza with the sauce then spread the ricotta all over.
Add the shrimp, scallops, crabmeat, onions and garlic.
Sprinkle with basil, salt and pepper.
Top with mozzarella and parmesan cheese.
Pre-heat the oven to 425 degrees
Cook the pizza for around 20 to 30 minutes until crust is golden brown.


---
Don't forget to click on the logo below and subscribe to my
NEW NEWSLETTER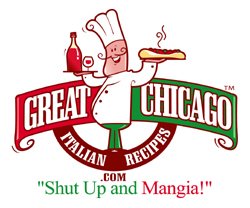 That's a discovery! That's Italian! That's
Great Chicago Italian Recipes.com
Leave Ricotta Seafood Pizza and Return to Italian Recipes
---
---
Home | The Italian Grocer | Italian Heritage | Italian Chefs | New Contest | What's New | Restaurant Reviews | Your Reviews | Appetizer Recipes | Soup Recipes | Salad Recipes | Bread Recipes | Vegetable Recipes | Pasta Recipes | Poultry Recipes | Beef Recipes | Pork Recipes | Veal Recipes | Lamb Recipes | Seafood Recipes | Pizza Recipes | Cooking for Kids | Italian Cheese | Italian Wine | Dessert Recipes | Coffee and Espresso| Italian Dinner Music | Food Glossary | About the Cook | Sitemap | Share This Site | Contact | Privacy Policy | Disclaimer | Submit Your Recipes | Your Italian Recipes | Archived Menus